Tuesday, October 13 2015 00:00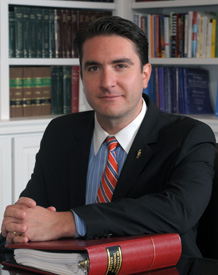 For the first time, Pinellas County's Charter Review Commission has retained non-county affiliated representation, selecting Winter Park's Vose Law Firm, with Managing Partner Wade Vose, serving as lead counsel.
Pinellas County is the most urbanized county in the State of Florida. Vose and the Vose Law Firm will represent the Pinellas commission as it considers the balance of power between the county and its 24 municipalities, and between the county and its constitutional officers.
"The charter review process has a fundamental impact in the future of Pinellas County as it will determine the county's governance as it moves forward in the future," Vose says. "It's an honor to be selected by the commission."
The selection was the culmination of a multiple month selection process pitting Vose and his team against a prominent and politically powerful statewide law firm.
Vose also serves as General Counsel to the 2016 Orange County Charter Review Commission, the second time he has held that position. The only other attorney to have served in that role twice was former Orange County Mayor and U.S. Senator Mel Martinez.
About the Pinellas County Charter Review Commission:
The Pinellas County Charter Review Commission is an independent commission under the Pinellas County Charter empowered to review, on behalf of the citizens of Pinellas County, the operation of county government in order to place proposed amendments to the Pinellas County Charter on the general election ballot. Such proposed amendments do not require the approval of, and cannot be vetoed by, the Pinellas County Board of County
Commissioners. For more information, visit: www.pinellascounty.org/charter
About Vose Law Firm:
Vose Law Firm focuses its practice in local government representation, real estate and development law and general business law. Founded by Gretchen "Becky" Vose, the firm serves clients throughout the state of Florida from its Winter Park headquarters. The firm has served as city attorney for 11 Florida cities, and has successfully represented numerous real estate developers statewide. For more information, visit: www.voselaw.com